Dalai Lama Fellows is Reimagining Leadership
Through a head, heart and hands ethical leadership approach, we cultivate and support a global movement of next generation leaders applying universal values to solve global challenges.
We all share a vision for our common humanity, but somehow we've overemphasized profit and growth over inner and outer peace and connection to others and the world.
Millennials will make up 75% of the workforce by 2030, and they are asking for new ways of leading that can benefit all of us and our planet. Join us in the global movement to Reimagine Leadership.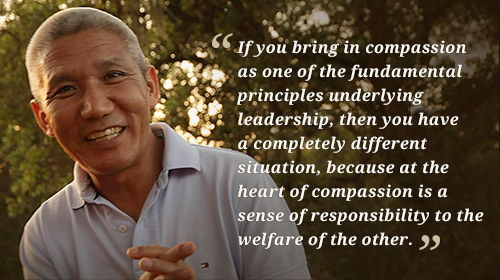 Thupten Jinpa, Advisory Council Member and Principal Translator for the 14th Dalai Lama
How We Are Reimagining Leadership:
Leaders embody and cultivate positive values. Leadership begins with the self. Exemplary leaders like Nelson Mandela, Martin Luther King Jr., Malala and the Dalai Lama cultivate strong personal practices to maintain their connection to themselves and others. We believe a strong foundation in practices that cultivate awareness and are rooted in genuine compassion for the self and others is vital to embody one's values.
Leaders work for the benefit of our common humanity. Every person in a position of leadership must realize how their actions impact communities and societies, both directly and indirectly. Leaders must have the integrity, courage, humility, ambition and resilience to stand up to and take accountability for violence, corruption, abuse, inequity, bias and indifference. Leaders must connect across differences and come together as one human family.
Leaders build solutions now for a better future. Leaders can reinvent the future, heal our planet and ensure our survival. Leaders must understand the bigger picture and think long-term. Only by taking the long view will leaders be able to discern the best course of action now towards achieving that better future. The Reimagined Leader is one who leads in community, working for the benefit of generations to come.
Gratitude
We are grateful for the continued support from our institutional partners and more than 250 individuals who support and join us in the global movement to reimagine leadership.
11th Hour Project of the Schmidt Family Foundation

Andrew L. and Gayle Shaw Camden Fund

The Branscomb Family Foundation

Dalai Lama Trust

Fenwick Foundation

The George Family Foundation

FThree Foundation

Isabel Allende Foundation

The North Ridge Foundation

The Jay & Rose Phillips Family Foundation

Tan Teo Charitable Foundation
If you would like to donate via Check
Please make checks payable to Community Initiatives and indicate in the memo: Fund 6263 Dalai Lama Fellows.
Please mail check to:
354 Pine St.
Suite 700
San Francisco, CA 94104
Your donation is 100% tax deductible with the EIN: 94-3255070.
If you have any questions please contact Joash Wampande, Executive Assistant at jwampande@dalailamafellows.org.
With gratitude,
Dalai Lama Fellows
P.s. If you prefer to make your gift online, please click here.
Donate to Dalai Lama Fellows
Is my donation and credit card info secure?
Yes, the security and confidentiality of your information is our highest priority. We will not sell, trade or share your personal information with anyone else, nor send donor mailings on behalf of other organizations, and we will only share personal information if you have given us specific permission to do so.
Is my donation tax deductible?
Yes, we are a fiscally sponsored project of Community Initiatives, which is a public 501c3 organization recognized by the IRS. Your donation is tax-deductible to the fullest extent permissible by law.
How do I know that my donation was made successfully?
You will receive an emailed receipt immediately after your donation is submitted and your credit card is processed. Your donation will also show up on your bank or card statement within 1-3 business days.
Do I get a receipt?
Yes, a receipt is sent to your email inbox once your donation is processed. Please be sure to keep a copy of your receipt for tax purposes. If you select a recurring donation, you will be sent an individual receipt each period when your donation is processed.
Is my donation private?
We will not share or sell a donor's personal information with anyone else, nor send donor mailings on behalf of other organizations.